Due to the COVID situation and over demand throughout countrywide logistics, deliveries are taking longer than usual. There is an approximately a 5-7 Business day lead time for national delivery. If you require a specific date, please notify us in the notes section at sale stage.
Please thoroughly read through this information on how we deliver our goods as not all properties suit this method. Please call us to discuss the delivery details if there is any slight problems you are unsure about we are here to help!
We aim to deliver all orders within 3-5 working days from dispatch of your order (Most orders placed before 12pm will be delivered in 3-5 working days). Any NEXT DAY deliveries need to be placed before 11am Monday to Thursday. Next Day deliveries placed on a Friday before 11am will be delivered the following Monday (excluding Bank Holidays – then the delivery will be on the Tuesday).
We will endeavour to deliver your order on the day requested but please note delivery dates are unfortunately NOT GUARANTEED as we use an external haulage company and problems can occur that are beyond our control. Please don't arrange for a somebody to come and move the goods until they have arrived.
Standard deliveries can arrive between the hours of 8.00am and 6.00pm unless you have chosen a timed delivery please call us to discuss timed delivery costs. Timed deliveries should arrive within the hours requested. If your delivery arrives early and you accept it without speaking to us first, we are unable to refund the timed delivery charge.
Not A Hiab
Please note that the delivery will NOT be on a Hiab vehicle, so cannot be craned off. All deliveries are made with a tail lift offload.
If you are ordering a large quantity (10 tonnes or more) we can sometimes arrange alternative offload so please call us to discuss.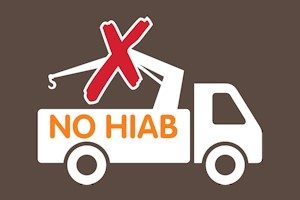 Route To Your Property
This does not just mean your drive or directly outside your house, please ensure the road approaching your property is also suitable for a curtain sided 24 tonne pallet truck vehicle Please make sure that the route to your chosen delivery address has no weight restrictions, is free from low hanging branches or obstacles (including parked cars), which may cause damage to, or obstruct delivery vehicles.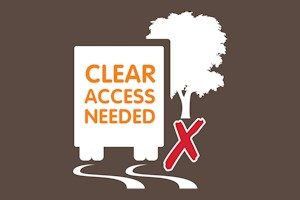 Size Of Delivery
Vehicle Delivery will be made on a large 18/24 tonne vehicle (dimensions approximately 13m long and 4m high) unless otherwise requested. Please check you have sufficient access to accommodate this size vehicle at your chosen point of delivery.A smaller 7.5 tonne delivery vehicle (dimensions approximately 7.5m long and 3.5m high) can be requested, but must be done during the order process. However these vehicles are of limited availability so supply of them may delay your delivery by up to two working days. Also the maximum weight these possible is only 750kg for these smaller vehicles so please call to discuss.
Please note charges will be incurred if you have unsuitable access. Read more in our T&C's.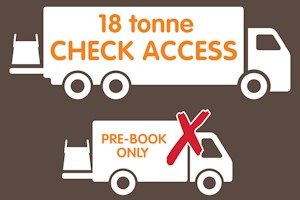 Access To Your Property
Goods will be placed as near to your property as the driver deems safe. It is at the drivers discretion whether the goods are left kerbside or on your property. If the driver considers your access unsuitable for whatever reason they are within their rights to refuse to unload the pallet or leave it as near as possible to the required destination. Vehicles are not insured to enter your premises.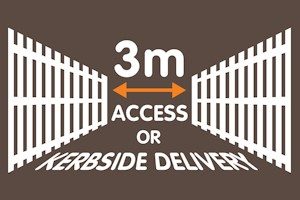 Vehicle Offload
The driver will unload using a tail-lift offload and manual pallet truck to push or pull the goods into position. The pallet truck can only be operated on a flat, level and solid surface which is free from grass or gravel. The driver will be unable to push or pull the goods up any sort of incline or pull the pallet truck over uneven ground. The small wheels on the pallet truck stop dead if an attempt is made to pull them over a rough surface or gravel.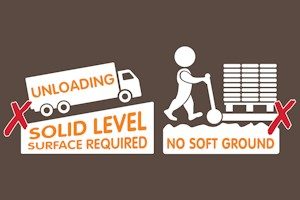 Weight Of Goods
Every effort will be made by our hauliers to deliver the goods to where you would like them placed, however this is not always possible due to the size and weight of the pallet. Our bulk bags weigh approximately 875kgs which is just under a tonne and our 50 bags of pre-pack bags weigh approximately 1000kgs which is a tonne. As the driver has to manually push or pull the pallet into position, they will struggle to do this if the ground isn't flat and solid.
Receipt Of Goods
Please make sure you are available to receive the order and sign for the materials, or have made prior arrangements for a third party to do so on your behalf.
If you are not going to be in to receive your goods and do not have anyone who can sign on your behalf then please call us to discuss it. We can sometimes organise with our hauliers to leave the goods without signature, however this lessens the chance of the goods being left exactly where you would like them.
We do request you are available by phone if you are not at home to receive your delivery. Failure to notify us of any delivery restrictions may delay receipt of your order, or may incur additional costs for failed or re-deliveries. These will be charged to you at cost in line with our terms and conditions, copies of which can be downloaded from our website.